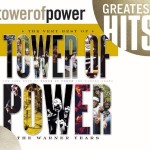 I was a teen in Northern California when Tower of Power hit their early commercial success.  Tower of Power was based out of Oakland, which meant (a) I had a few chances to hear 'em at exotic places like State Fairs etc., and (b) there were other horn section bands popping up who wanted to bring that same sound and groove.  Powerful horns, funk guitar, syncopation, groove, fun.  They weren't core listening for me then as such, but that groove certainly in ingrained in me.  In addition to their original music, the Tower of Power horns showed up on other artist albums, including Little Feat's live album "Waiting for Columbus."  I've worn the grooves deep in that album.  I put "You Got to Get Funkifize" of  "The Very Best of Tower of Power: The Warner Years on the 365 list and also Little Feat's "Rocket In My Pocket."
For B-Side tunes, "You're Still a Young Man" couldn't go unmentioned…  Tower of Power asked the question "What is Hip?"  I'd say keeping that sound alive and exciting for over 40 years, they are..
What is hip? Tell me, tell me, if you think you know…
Found a compilation video that was clever.  Someone compiled various videos of "What is Hip" performed live from 1973 to 2011.  Some different players, different lead vocalists, but a groove that won't give up.